Community Information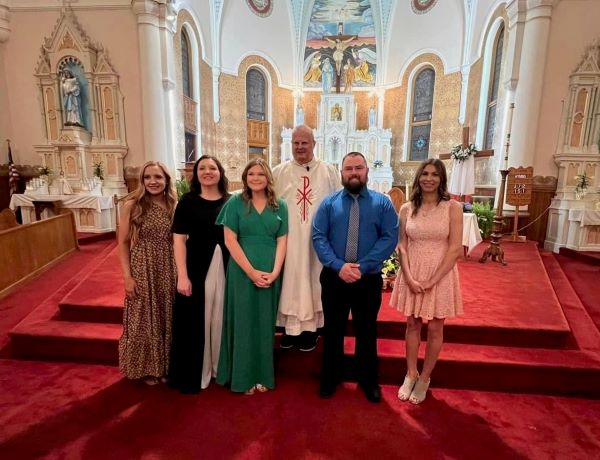 Photo of RCIA, 2023
Congratulations to the following that were initiated into the church at St. Agnes on Holy Saturday, April 15, 2023. They are: Alix Pierce, Laila Beaven, Michaela Butler, Warren Blake and Haylie Wilkerson. Welcome!
---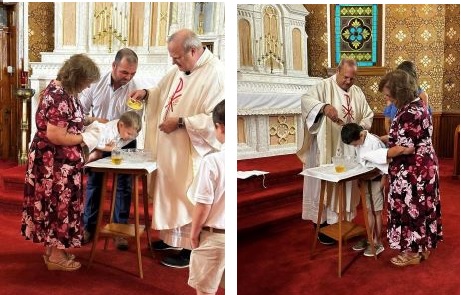 Photo of Baptisms May 7, 2023
Congratulations to Camden and Cayson Carr, sons of Adam and Lauren Carr, who were baptized on Sunday, May 7, 2023.
---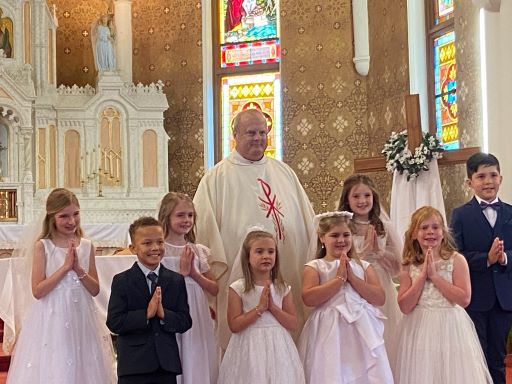 First Communion April 23, 2023
Congratulations to these children who received their 1st communion for the first time on Sunday, April 23rd. Pictured in the front: Keaton Manuel, Cambree Millikan, RaeLynn Girten, Riley Hancock Back row: Braylee Hooper, Adalyn Utley, Fr. Bruce, Heidi Courtney, Korbin Frasier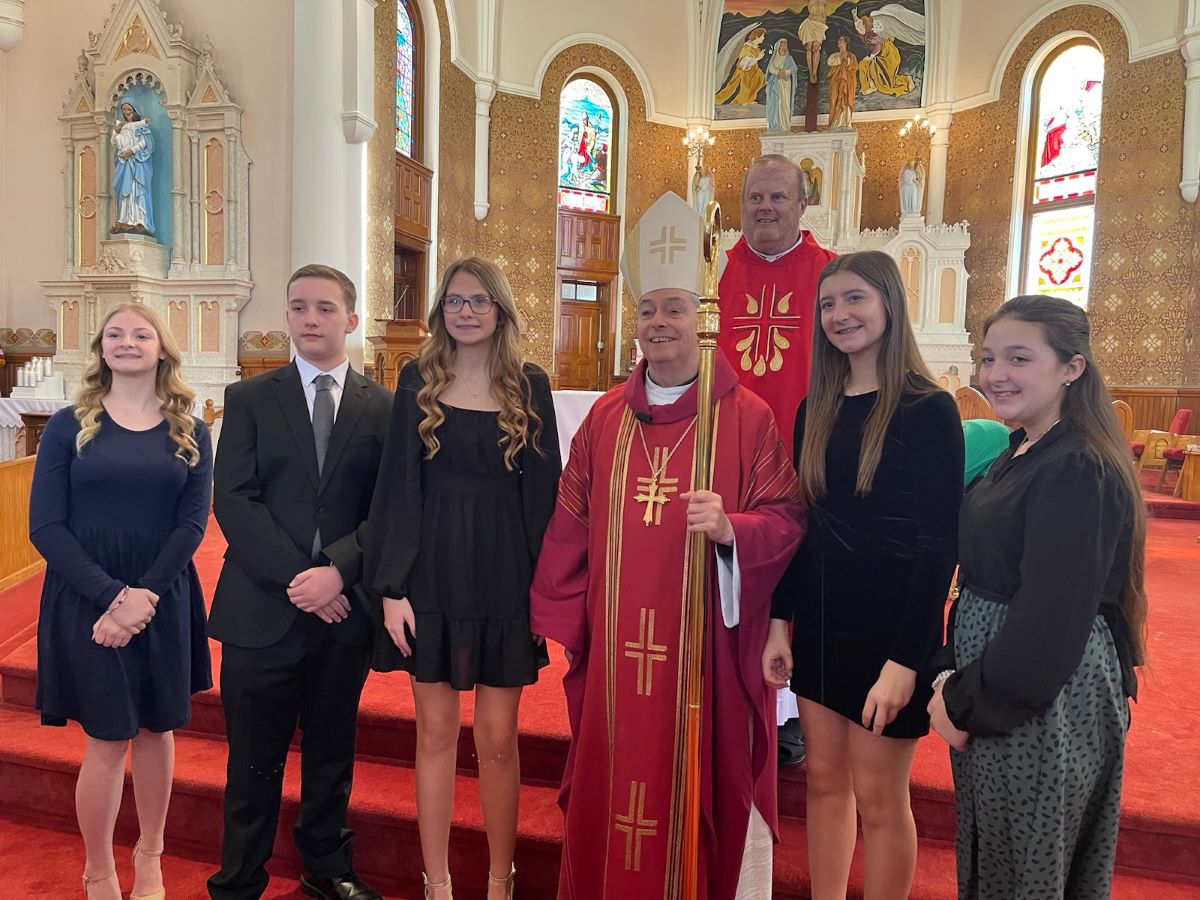 Confirmation Class, 2023
Congratulations to the following teens that were confirmed on Sunday, Feb. 12, 2023 by Bishop Wm. Medley. Pictured are: Kenley Riggs, Noah Greenwell, Kennedi Clements, Macy Gough and Pehtyn Courtney.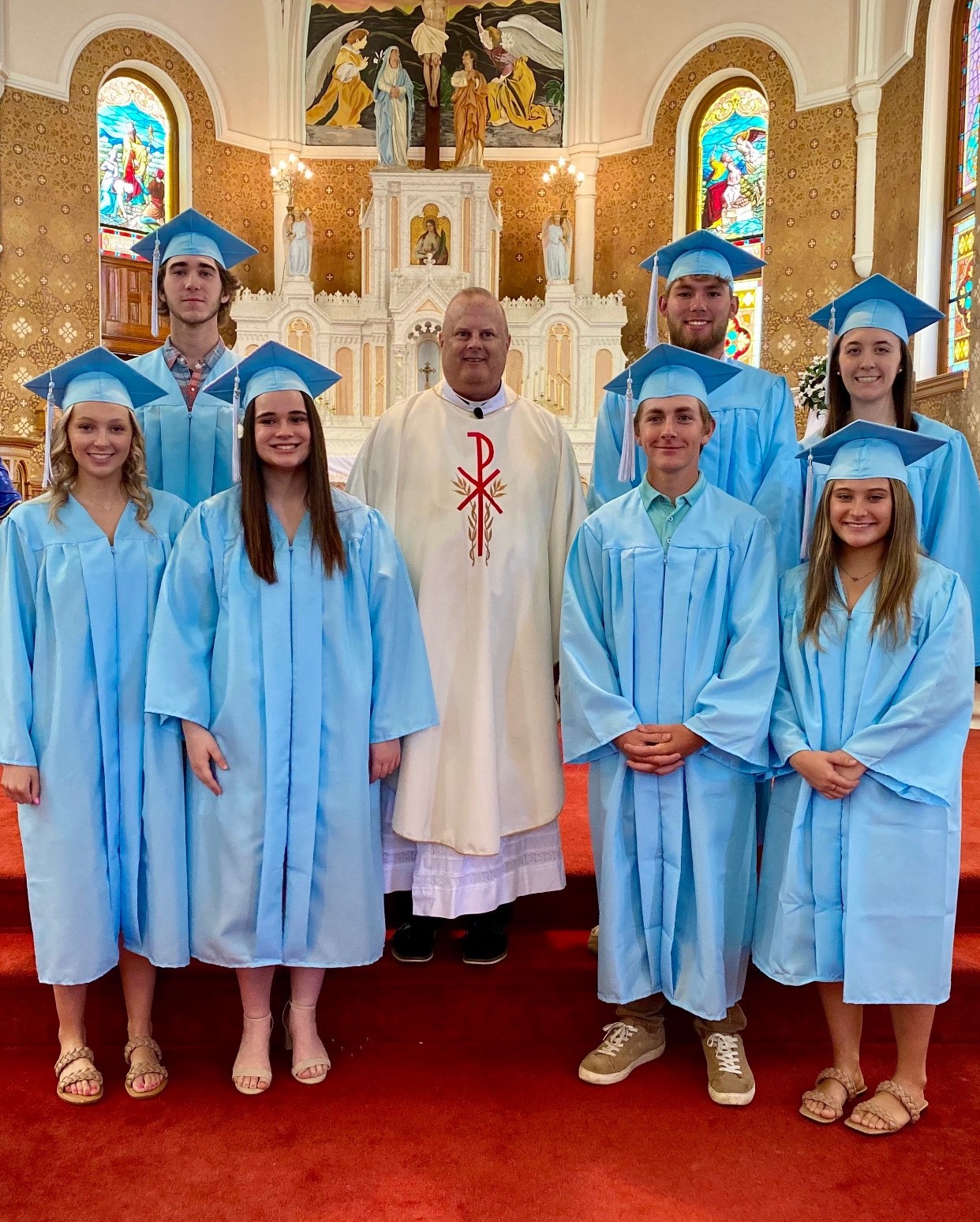 St Agnes Graduates, 2023
Congratulations to our UCHS graduates from St. Agnes! Pictured are: Front Row: Reese Hagan, Emma Floyd, Aiden Schneider and Jessie Luttrell Back Row: Layton Burgess, Fr. Bruce McCarty, Elijah Baird and Madison Morris
---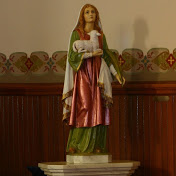 STAGNESYTN You Tube Channel
Click on the link below to go to the St Agnes Roman Catholic Church Community Information Page. This page will highlight current information about events taking place in the parish. It will also link to our new STAGNESYTN You Tube Channel, which will contain videos and slideshows from current and past events. STAGNESYTN will also include instructional and spiritual videos produced by staff and parishioners that will keep you informed until the Coronovirus is contained and thereafter.
Link To Community Information Web Page
---
Live Stream Mass via Facebook
Click on the link below (underlined text) to go to the St. Agnes Roman Catholic Church Facebook Page about 10 minutes before a live stream of a scheduled Mass is to start. If the Mass has begun streaming, there will be a "Live" signal on the video. You can select the live video, which will expand on the page and you can view and participate in the Mass. At the end of Mass you can close the Facebook Page and continue use of your computer. You will also see all previous videos posted to the Facebook Page.
Note: At this time you must already have a Facebook Account. If you do not have a Facebook Account you can use the Facebook Login Window to create one on your first visit. On subsequent visits you will go directly to the Live Streaming Web Site.
We are working on a way for non-Facebook Users to access the St. Agnes Facebook Account to watch any Mass scheduled for live Streaming.
10:00 O'Clock Mass Live Stream
---
Cemetery Information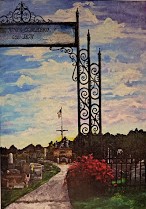 Click on the link below (underlined text) to go to a page with additional regulations, a map of the cemetery, an additional link to the Veterans Spreadsheet and a link to the St Agnes Cemetery FindaGrave.com website. At this site you can do a genealogical search on anyone buried in the cemetery.
Knights of Columbus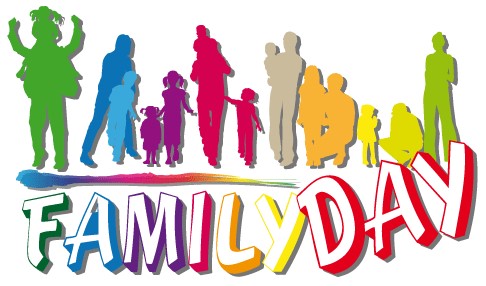 The Uniontown Knights of Columbus will be have a family day on Sunday, June 11th from 11AM-2PM. More information will follow soon.
---
Sick List
PRAY FOR SICK & HOMEBOUND PARISHIONERS
Gary Alvey
Ricky Garnett Millie Lewis Brian McGraw Betty Borup Hattie McGuire Brad Burke Martha Girten Bobby Mills Mark Byrnes Buddy Borup Henry McGuire Sr. Betty Nally Peggy Thomas Karla Utley Donnie Mills Dwight Grundy Ray Graham Annetta McBride Tina Chapman Mary Girten Tim Thomas Carol Gough Lynell Greenwell
Carolyn Pike Ella Grace Clevidence Tommy Hagan Dorris Collins Joyce Collins Jane Thomas Diane Conley Charlene Hite Pearl Tugwood Damon Dayberry Michael D. Williams Viola Drury Irene Jennings Diana Yates Nancy Brewer Kay Greenwell Lisa Burke Jamie Pierce Betty Ann Morse Vickie Mills Girten Betty Hoover Helen Willett Paul Pike James Sheridan
SICK AND HOMEBOUND FRIENDS/RELATIVES
Amanda Gayle Girten Brenda Girten Johnny Pike Judy Girten David Buckman Margie Robinson Jon Buckman Pat Ebelhar Vicki Kirk Kenny Wolfe Beverly Miller Charles "Billy" Mills Brad Cavins Cassy Davis Russell Norris Brooke Hagan Sherry Johnson Melanie Lanier Jane Rust Janci Hagan Arnold Susan Price Jennifer Render Michelle Cote Bradley Cote Katelyn Cote Kristina Cote Brandie Workins Debbra Ashby Wes Pardue Fred Guillerman
Emily Schulte Lura Buckman Mayva Stiles William Buckman Ann Thomas Randall Herald Carolyn Thompson Claude Higginson Jr. Doris Tucker Andrea Dayberry Hosford Bryant Mann Brooke Utley Dominick Loxley Brenda Sheffer Mark Martin Tim Heppler Brittney Springer Wayne Mills Mickey Buckman Michelle Williams Tommy Sheets Frankie Rust Joy Dye Norene Guillerman Tony Pfingston Stacy Foster Jimmy Duncan Colette (Utley) Domenicone Ellen Buckman
Roxanne Rhodes Maples Christina Wilkerson Sandy McBride Charlie Wolfe John Lee Chris Montgomery Suzanne Wurth Dorris Nally Wynelle Young Drew Wesley Gatten Debbie Hancock Thompson Larry Carmon Owen Halcomb Brenda Maile Margaret French Emily McCuiston Kristin Schulte Tommie Greenwell Rebecca McCombs Linda Carter Ralph Chatham Larry Buckman Connie Carmon Sabrina Benham Jessy Dorris Nikki Teare Emma Tearre Crystal Mann Bob Mason
St. Agnes Parish Updates
These are the Mass intentions for this week:
Friday, June 9 - 8AM - Benny Crowdus & Crystal Mann Sat., June 10 - 430PM - St. Agnes Parishioners Sun., June 11 - 8AM - Mary Pat Byrnes & Anna Clements Sun., June 11 - 10AM - John B. Hancock Tues., June 13 - 8AM - George "Boise" Greenwell & Brandon Dye Wed., June 14 - 8AM - Jeff & Christy Gough Thurs., June 15 - 8AM - Fred Eckman Friday, June 16 - 8AM - Beverly Buckman Sat., June 17 - 430PM - Vikki Miller & Linda Dunn Sun., June 18 - 8AM - St. Agnes Parishioners Sun., June 18 - 10AM - Bobby Dale Jennings
To report suspected abuse, call the Kentucky Child Protection Hot Line: 1-877-KYSAFE1 or 1-877-597-2331 (Toll Free) or (toll-free 1-877-597-2331) or contact your local Commonwealth Attorney. To report abuse to the diocese, current or past, by anyone acting in the name of the Church (paid or volunteer), call Scott Ingram, Pastoral Assistance Coordinator at 270-852-8380. You may also visit the Office of Safe Environment (htps://owensborodiocese.org/safe) for more information. To make a report of sexual abuse of a mnor and related misconduct by bishops, go to ReportBishopAbuse.org or call 1-800-276.1562. The Diocese of Owensboro's sexual abuse policy is available on the table in the back of church, in the parish office, the church website, as well as the Diocesan website. Click on the link below (underlined text) to go to the Diocese of Owensboro sexual abuse policy.
Fr. Bruce will be hearing confessions from 4 to 5 p.m. on Saturdays.
*If you would like to make donations to St. Agnes Parish, you may drop your donation at the office Monday thru Thursday from 8 a.m. to 4 p.m. or mail to us: 504 Mulberry Street, Uniontown, KY 42461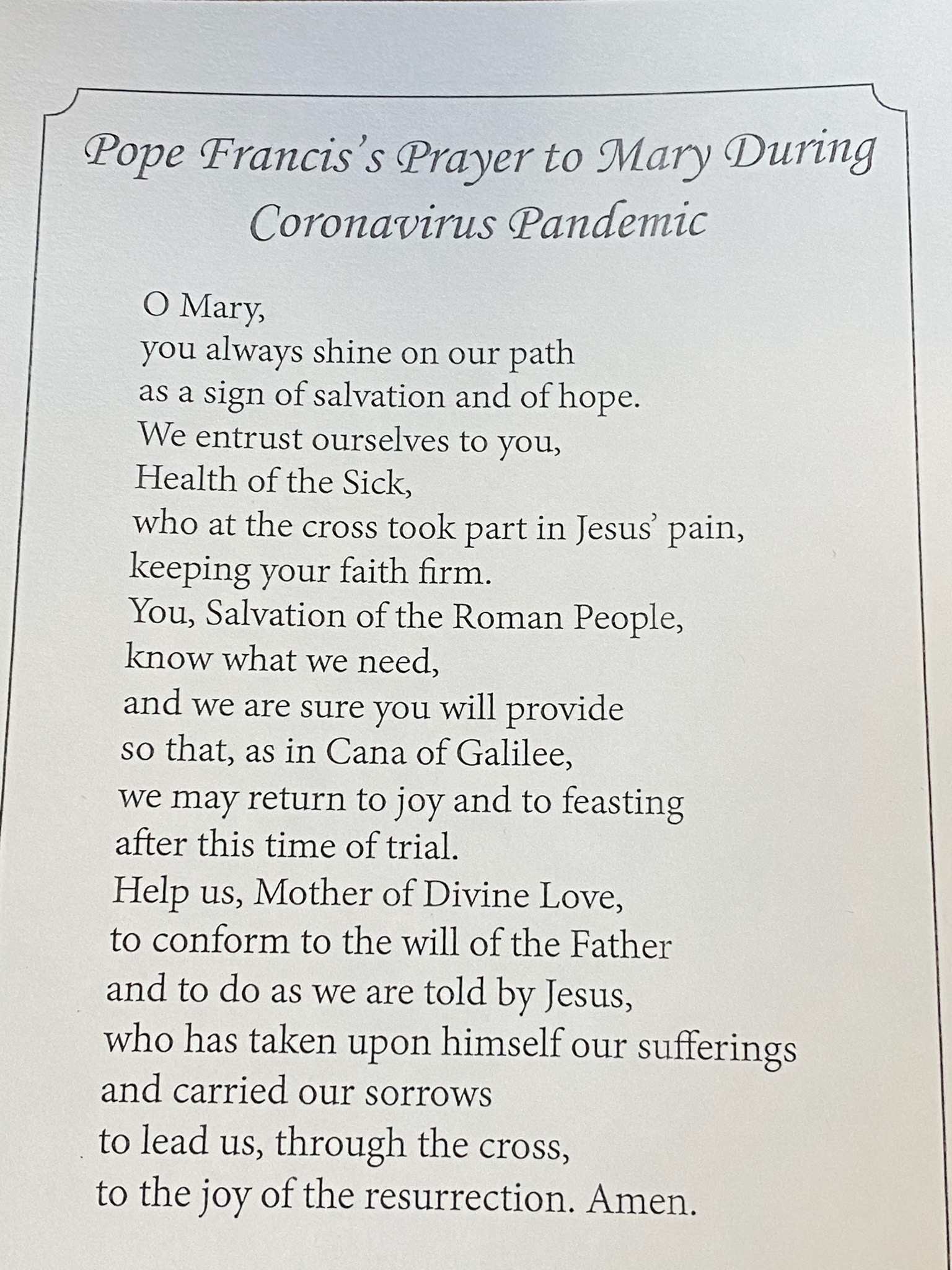 MASSES
Saturdays at 4:30 p.m.
Sundays at 8:00 a.m.
Sundays at 10:00 a.m.
Tuesday thru Friday 8:00 a.m.
2nd Thursday 8 a.m. Mass at St. Ann only(when school is in session)
MINISTRY LIST & UPCOMING EVENTS
Calendar
Ministry List
Previous Ministry Lists
Bulletin
Previous Bulletins
PROGRAMS AND SERVICES
CONFESSIONS
3:30 p.m. to 4:15 pm & or by appointment.
RELIGIOUS EDUCATION PROGRAMS:
Elementary (Kindergarten thru Grade 8):
St. Agnes Parish Hall-Every other Wednesday from 5:00 - 6:00 p.m.
RCIA
(Teens) - Wednesday - 5:00 p.m. (Adult)- Thursday 5:00 p.m.
BAPTISM
Contact Rev. Bruce McCarty
MARRIAGE
Contact office 6 months prior to wedding date.